Toddler Activities: Gung Hee Fat Choy
Toddler Activities: Celebrate Chinese New Year with a Festive Picture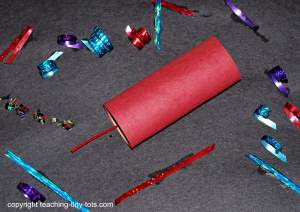 DESCRIPTION
Make a festive picture with a "firecracker" for Chinese New Year.
MATERIALS
1 Sheet Black Construction Paper
1 toilet paper roll
Confetti or Ribbon, Glitter Glue, Cut pieces of Colored Construction Paper
Elmers Glue
STEPS
Cut red construction paper to fit toilet paper roll.
Glue in place around roll and let dry.
Glue to black construction paper seam side down.
Decorate with your choice of materials:
Cut ribbon pieces, curl a few

Sprinkle confetti onto glue on paper

Glitter Glue

Cut pieces of colored construction paper or wrapping paper
TIPS AND SUGGESTIONS
Red Raffia or red ribbon makes a nice wick.
Print out the words Gung Hee Fat Choy which means Happy New Year and glue onto the page.
Print Gung Hee Fat Choy Here

EDUCATIONAL TIPS

Share some books about Chinese New Year with your child. For young toddlers, just discuss pictures rather than reading then entire story.