Toddler Activities: Clay Ornaments
Toddler Activities: Clay Ornaments Using Crayola Air Dry Clay
Great hands on activity for ages 3 and up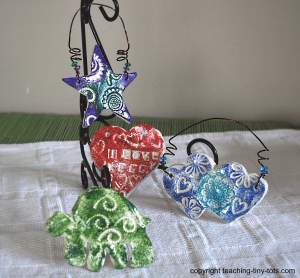 DESCRIPTION

Air Dry Clay makes this a great kids activity. Use water to join and smooth pieces, air dry and paint with tempera, acrylic or watercolor.















MATERIALS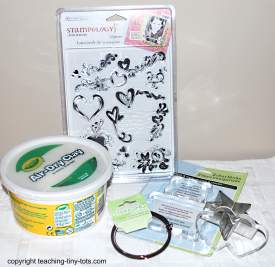 Crayola Air Dry Clay
Cookie Cutters
Stamps (see our recommendation in Tips and Suggestions)
Beading Wire (18 gauge is the one used in this project)
Beads
Paint, tempera, acrylic or watercolor
Small sponge or brush
Acrylic spray
OTHER MATERIALS
Cookie sheet or cutting board sheets to work on
Small Rolling Pin
Coffee Stir
Small dish of water
Waxed Paper and cookie sheet to dry on
Jewelry cutters helpful if using wire to hang.
Pencil (we coiled the wire around pencil)
STEPS
Remove some clay from the container. You may need a butter knife to remove some. Roll into a ball and press onto flat surface.
Roll flat with rolling pin by putting pressure on the middle and rolling rather than holding onto the handles. This clay is a little hard so it will require adult assistance.
Roll to about 1/4 inch thick.
Press cookie cutter into clay. Peel clay around the cutter and then lift cutter. Press clay gently out of the cutter.
Poke a hole on each side with coffee stir.
Select stamps and press gently into clay.
Line cookie sheet with waxed paper and lay shapes on it to dry. Drying time is about 3-4 days.
Paint with sponge or brush. We used watercolors in tubes and only lightly dampened the sponge. We cut a 1/2 inch rectangular piece of sponge to use.
When paint is dry, spray with Acrylic spray to seal and add shine. (Adult step)
Tie with ribbon or wire. Cut wire extra long if you plan to coil. We used a pencil to make a few coils. Add beads and string through the hole and bend wire to secure
TIPS AND SUGGESTIONS
Wire comes in different gauges and colors. The larger the gauge, the smaller the diameter. That means that 22 gauge wire is not as thick as 18 gauge wire.
Roll the roller part of the rolling pin on the clay rather than using the handles on the side. The pressure on the main roller helps.
Any stamp can be used however we liked using the - Stampology Clear Stamps
which peel off a sheet and you place on Acrylic Blocks
Being able to see through the block made it easy for the girls to see where the stamps would make an impression. Great for other toddler activities as well.
OTHER IDEAS
Free Form for Classroom Activities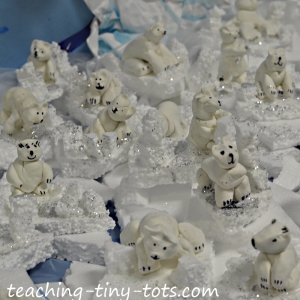 Here are some free form polar bears made by my daughter's class. Each bear was mounted on a piece of styrofoam to create this display. Later, each child took their polar bear home. It was such a cute display!
Other Toddler Activities to Promote Learning

Cut out shapes using cookie cutters such as squares, circles and triangles. Paint and discuss size, shape and color
Using either cookie cutters or free form, make letters of your childs name