Toddler Activities: Christmas Cinnamon Dough Ornaments
Toddler Activities: Cinnamon Dough Ornaments and Gift ties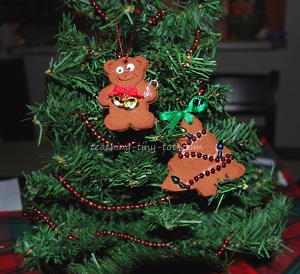 DESCRIPTION

A great hands on activity that your child will enjoy. Hang as an ornament on the Christmas tree, add to potpourri or embellish a gift as a tie on. However you choose to use these cinnamon pieces, it is something that will last for many years and retain that wonderful smell.

INGREDIENTS

1 cup cinnamon
1 cup applesauce
MATERIALS

Cookie Cutters or Molds
Medium Bowl
Waxed Paper or Parchment Paper
Plastic Wrap
Rolling pin
Baking Sheet
Parchment Paper or Waxed Paper to work on
Coffee stir straw or skewer to poke a hole for hanging
Ribbon if hanging
OTHER MATERIALS


Various Decorations


Wiggly Eyes
White Crayon
Ribbon
Small Scrapbook embellishments

STEPS
Place all ingredients in a mixing bowl. Mix with spoon or hand.
If dough is too sticky add a little more cinnamon or if too dry add a little applesauce.
Place approximately 1/4 of the dough on a cinnamon powdered surface.
Place the rest of the cinnamon dough in plastic wrap.
Roll out the dough to about sugar cookie thickness 1/4 inch.
USING MOLDS
Prepare the mold by dusting it as well with the powdered cinnamon.
Roll out the ball of dough until it covers the top of the mold, keep the dough thick.
Place on top of the mold and with rolling pin and hands tap on the dough, pushing it into the mold.
Flip the mold over and allow the cookie to fall out.
Cut around the edge, the thickness of the cookie should be approximately 3/8inch thick.
Punch a hole in the piece if you want to tie with a bow or hang.
USING COOKIE CUTTERS
Press cookie cutter into the dough. Peel dough away from cutter, then lift the cutter up gently.
FREE FORM
Let your child make their own project. Note that thicker items will take longer to dry.
DRYING
Place in a warm oven 175-200 degrees for one hour turning every fifteen minutes.
Next allow to cool, dust off.
Decorate with ribbon or other embellishments
TIPS AND SUGGESTIONS
If your dough did not come out of the mold, knead again and repeat. The dough needs to be a little stiffer. Molds can be deep and you will want all of the pattern to show.
If you work on parchment paper you can simply transfer it to a baking sheet without lifting up your pieces
You can air dry the cinnamon dough if you prefer. It may take 1-2 days.
If you have any dough left over, store it by placing it in plaster wrap. Surprisingly it will last for months and months. Perfect for that afternoon you are looking for a toddler activity.
OTHER IDEAS
Add Bows, Sequins and Rhinestones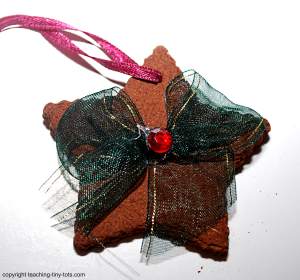 Glue on bows, sequins, and other small decorations to make this Christmas cinnamon ornament.
We made a Gingerbread Bear as a Classroom Project and it made a cute Christmas gift for the parents. We embellished it with wiggly eyes, miniature candy canes and a mini bell ribbon around the neck. Children would return and visit me during Christmas and many mentioned they still had their ornament! Great toddler activity as well.
Scented Gift Ties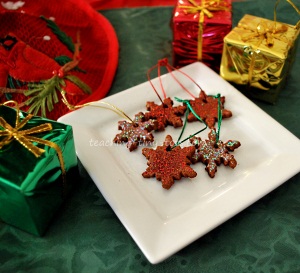 Make small gingerbread ornaments using small cookie cutters. Tie ornaments onto gifts to add a special touch. These are about 1 inch tall by 3/4 inch wide and were brushed lightly with glitter glue for a nice sparkle. Easy toddler activity...use a small paint brush, apply the glitter glue and let your child brush it to spread it around.
See above for
Recipe
Add a Little Color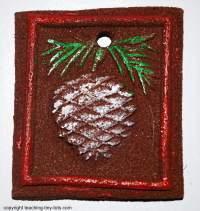 Use molds to create ornament and brush top of design with acrylic paint. Use the tip of the brush to lightly brush over the design you want colored. For toddlers, apply the minimum amount of paint possible for them and you will get this feathery look.
Potpourri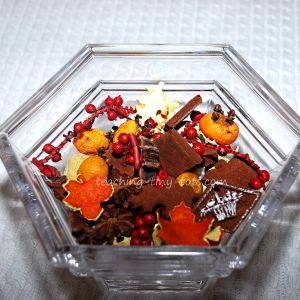 Use mini cutters to make potpourri pieces. See Holiday Potpourri