Toddler Activities: St. Patrick's Day Candy Container
Toddler Activities: Make a Cute Candy Container
A Green Activity!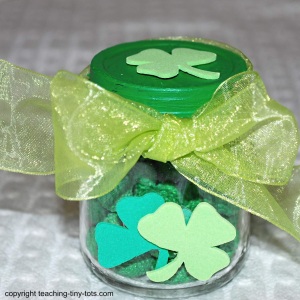 DESCRIPTION
A cute gift for a teacher or special person. Or great as a Math class activity...fill with small beans, candies, cotton, marbles or rice and predict how many are in the jar. Winner (closest to the number is the "winner")
MATERIALS
OTHER MATERIALS
Fill with green candy such as M and M''s, Nerds, etc). Other sugestions are small green buttons, shamrock figures or stickers, green beads, small green pom poms, green colored rice.
Acrylic Spray (optional)
Ribbon (optional)
STEPS
Paint lid of jar green.
Glue on shamrocks with craft glue.
Fill Jar with Candy
Tie a ribbon or glue some lace arount the lid.
TIPS AND SUGGESTIONS
Paint the lid while on the jar. Put masking tape around the base so paint doesn't go on the glass. It is easier to apply paint on the lid evenly without getting it on your child's hands.
OTHER IDEAS
Use paint pens to decorate.
EDUCATIONAL NOTES
A shamrock is a symbol of Ireland. it is a three-leafed old white clover. It is a common way to celebrate St. Patrick's day by wearing a shamrock which is said to bring good luck.