Toddler Activities: Dad's Favorite Barbecue Sauce and Baster
Toddler Activities: Decorate the bottle for the occasion and paint a baster brush to match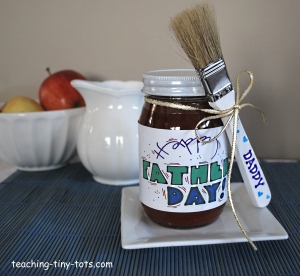 DESCRIPTION

We found this idea from Martha Stewarts site and decided to make our own with a couple variations. Buy your family's favorite barbecue sauce, make your own, or doctor up an original bottle favorite.

MATERIALS

1 Jar for Sauce (mason jar or one that sauce came in before.
Wooden Basting Brush
Acrylic Paint
Brushes, Q-tips, Stamps
Acrylic Spray (adult step only)
OTHER MATERIALS

Ribbon
Masking Tape
Tape
STEPS
Print label to match occasion and tape to bottle.
Use masking tape to cover the metal part of the brush.
Paint two coats, letting dry between coats.
Stamp pattern, draw with paint pens or use Qtips to make patterns on the brush.
Let dry and spray with acrylic spray to seal. (Adult step)
Make Your Own Sauce
INGREDIENTS

1 Bottle Bulls Eye Original Barbecue Sauce
2 Tablespoons Pancake Syrup
2 Tablespoons Ketchup
1 minced garlic clove

Mix all ingredients in bowl. Add more syrup if you like it sweeter.
OTHER IDEAS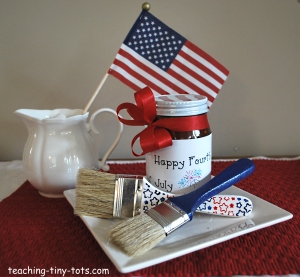 Fourth of July Barbecue!
Make your own sauce and paint a few basters to match the festivities! We used a star stamp on the white painted baster.