Bean Collage
Sorting, Counting and Making A Bean Collage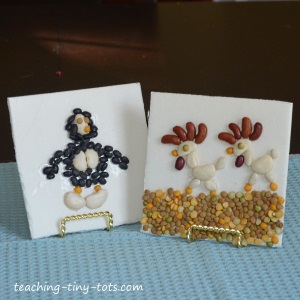 DESCRIPTION

Using a variety of beans, create a collage making a picture or pattern. Sorting and counting are mini activities you can do to reinforce basic Math skills. Be sure to check out our Other Ideas below for younger children who can make patterns with the beans or practice the letters of their names.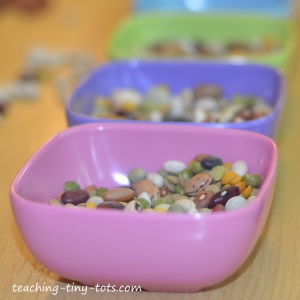 MATERIALS
1 Bag of Soup beans (4-6 children)Or a variety of beans pre-sorted if preferred
Small Dishes for Beans
Oaktag, Cardboard
Craft Glue
Q-tips or small sponge brush to apply glue
STEPS
Read a book if you are doing this as an activity. We have a few suggestions below.
Sort and Count beans if you'd like to add that as part of the activity.
Discuss size and color and shape of beans. Talk about what bean would be good to use for the ground, animal or object you are making.
Draw with pencil lightly a sketch of what you would like your bean collage to look like.

Plan a picture on a workspace and then glue beans onto the cardboard.





Using Q-tip or small sponge brush, apply glue directly onto the bean or small area on the board. We used a skewer but not recommended for small children.
Let dry thoroughly.
TIPS AND SUGGESTIONS
Plan your picture before you start gluing. It will help to decide on the size of board you need as well as to consider how it will look when finished.
For small beans we brushed on small areas of glue in a thick layer and then sprinkled the beans.
Print out pictures of a book if you are using the story to generate pictures.
OTHER IDEAS
Make simple patterns with the beans. Provide a lined piece of cardboard with rows for them to glue their patterns on it.
Write their first name on a piece of cardboard and have them glue on beans to form the letters.
Make a simple outline of a picture for younger children and have them glue on the beans to decorate.


Here are some books that would be a great way to introduce this activity.