100th Day of School
100th Day of School Activities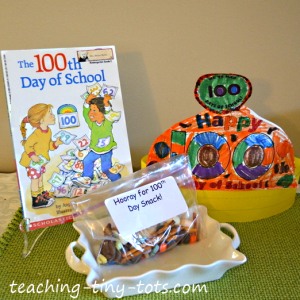 DESCRIPTION

100th day activity suggestions for classrooms and homeschooling. Appropriate for K-1
MATERIALS
Books
Small snacks like pretzels, goldfish and raisins. Marshmallows, m and m's, gummy bears, popcorn and cereal are also fun to add.
Ziplock for each child
Bowls for snacks
Paper towels
Gloves for adults handling the food (optional)
Masking tape or premade labels with child's name
STEPS
Read The 100th Day of School (Hello Reader!, Level 2) or read books of your choice. Be sure to see more of our suggestions below.
Have all materials ready, snacks in small bowls.
Have children count out a 100 pieces to put in their bags. If you prefer, have parents come in to help and let them handle the food while the child counts. This can be done in a center in small groups instead of the whole class if that is easier.
Put label with name on each bag.
TIPS AND SUGGESTIONS
If you have 10 different items, counting is much easier!
Other Activities You Might Like
100th Day Collages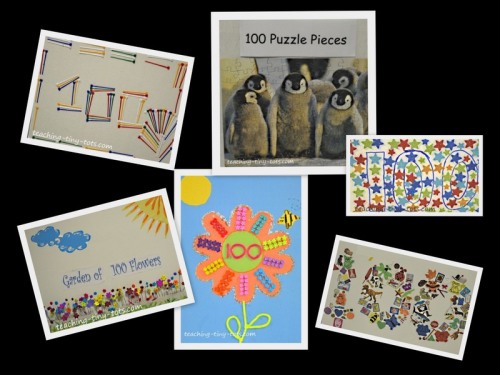 Have each child take home a construction paper with the instructions to create a collage using a 100 items to bring back to school and share. This is a great project for an entire grade level to do! Display the work outside of each classroom for the school to enjoy.
Practice writing to 100!
Free Printable 1-100 blank
Free Printable 1-50 trace and copy or write the rest to 100
Make a Hat!
Free Printable Crown
Make a Chain of 100 Links!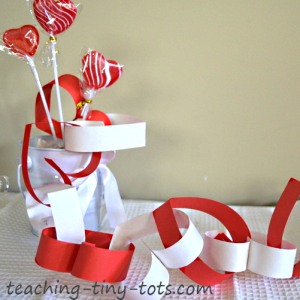 Have each child make a few links and put it all together. These are some heart links we made for Valentines Day. You can save them to decorate the classroom if you make them now.