Toddler Activities: Make a Banner for Chinese New Year
Toddler Activities: Say Happy New Year with a Gung Hee Fat Choy Banner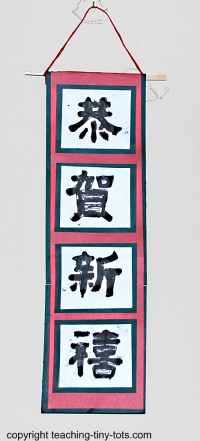 DESCRIPTION
Make a Banner to Hang that Wishes Everyone Happy New Year in Chinese.
MATERIALS
Free printable page for banner: Gung Hee Fat Choy
Red and Black Construction Paper
Black Marker
Scissors
Elmer's Glue
Chopstick
Ribbon, Raffia or Yarn
STEPS
Print out copy of the Chinese characters.
Color with black marker.
Cut out on line. Write number on back so you remember the correct order. It is one is top left, two is 2nd row on the left, etc.
Cut red construction paper approximately:19 x 5 inches depending on how much border you want. I glued two pieces together to make that length.
Cut black construction paper to have a border around each character approximately 5 x 4 1/4 inches.
Cut black construction paper to border red (optional)
Fold top of red about an inch and glue chopstick behind. (Let dry or add a piece of tape to hold)
Glue matted characters onto the red construction paper.
Tie a ribbon, yarn or raffia on ends of chopstick to hang.
TIPS AND SUGGESTIONS

Washable marker is recommended but it will smear if not careful.
Use glue stick for gluing the paper to construction for smoothest application.
You can buy packs of construction paper at stores like Costco (648 sheets in 12 colors) for an inexpensive price








Books are a great way to tie in an activity and learn something new. Here are a few books on Chinese New Year