Toddler Science: Learning About Temperature
Toddler Science: Decorate a Thermometer and Make a Daily Weather Chart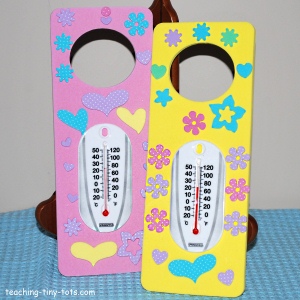 DESCRIPTION
Great way to introduce the concept of temperature is by getting an outdoor thermometer.
MATERIALS
Small Outdoor Thermometer
Foam Door Hangers
Foam Stickers (They come in small and large packs at any store with a craft section in a variety of colors, shapes and themes.)
One sheet of lamination film or Clear Sheet Protector
Cardboard 8.5 x 11 inches
Dry Erase Marker or Washable Marker
OTHER MATERIALS
Yarn or String (to hang Temperature Chart)
Glue Stick
Other Decoration Suggestions: Glitter Glue, Fabric Paint
STEPS
Trace the outline of the thermometer and decorate the foam door hanger before gluing on the thermometer. (This is for safety reasons)
After gluing on the decorations, glue on the thermometer with adult assistance refraining from pressing on the actual thermometer), let dry.
Hang on doorknob or hook. If windy, secure with a piece of yarn or twine.
Print out the Daily Temperature Record Sheet and Laminate the page or at least the front or the places that will be written on.
Glue using glue stick onto cardboard. Using glue stick instead of white glue will help prevent wrinkles.
Punch a hole on two ends of the cardboard and string yarn through the two holes and tie.
Hang on refrigerator, bulletin board or other location.
Record temperatures with your child daily.
TIPS AND SUGGESTIONS

Outdoor thermometers can be found in stores like WalMart and Target in the hardware section. We purchased the most basic one for a $1.00.
EDUCATIONAL NOTES

What is temperature?

Temperature is a degree of hotness or coldness that can be measured by using a thermometer. Temperature is measured in degrees on the Fahrenheit, Celsius, and Kelvin scales.

How do you find the temperature for a specific day?

Two great sources to find out the daily weather is

National Weather Service

and

Weather Underground

SCIENTIFIC PROCESSES USED

Observation

Seeing Pictures in a book or online.
Hearing and listening to directions given.

Communication

Oral Explanation of what temperature is and different types of weather conditions.
Pictorial Showing pictures in a book

Comparing

Measuring

Using the thermometer as a means of measuring the temperature

Organizing

Data Gathering

If you choose to do the daily measuring chart you are gathering data


*******************************************************************************************
Fahrenheit to Celsius Converter
Enter a number in either the fahrenheit box or the Celsius box, then click outside the text box to show the conversion

BOOKS
Books are always a great way to introduce toddler science activities.