Toddler Recipes: Nilla Wafer Treats
Toddler Recipes: Nilla Wafer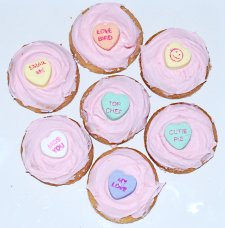 DESCRIPTION
Cute and easy for your toddler to decorate. Turn a Nilla Wafer into a party treat or activity.
INGREDIENTS
Nilla Wafers
White Frosting and food coloring or strawberry frosting
Heart Candies like red hots, cinnamon hearts, conversation hearts
Candy sprinkles
OTHER MATERIALS
Small Spatula or plastic spoon
Small cups to put frosting in for each child
STEPS
Stir frosting
Place frosting into cup for each child.
Dip each nilla wafer into frosting or use the back of a spoon to spread frosting over the top.
Decorate with sprinkles or small candies.
TIPS AND SUGGESTIONS
Put different toppings into small containers.
OTHER IDEAS
Great for groups of small toddlers...no baking!