Toddler Recipes: Celebrate Aloha Week with Haupia
Toddler Recipes: Haupia a refreshing coconut treat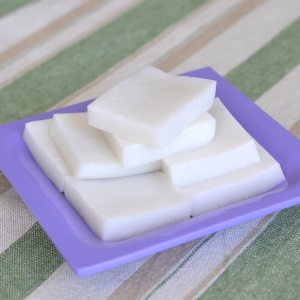 DESCRIPTION
A Local Favorite of the Hawaiian Islands is Haupia, a Coconut Flavored Treat
One of the annual toddler recipes I made while teaching was Haupia. We made Haupia during Aloha week in Hawaii which is celebrated for six weeks during the months of September and October.
Haupia is a coconut milk based dessert found at luaus and other Hawaiian festivities. Although it is considered a pudding, it has the consistency of gelatin. It is a cool and refreshing treat.
INGREDIENTS
2 cans of frozen Coconut milk (Mendonca is a favorite brand)
10 Tbs sugar
10 Tbs cornstarch
1 1/2 cups water
OTHER MATERIALS
9 x 13 pan
Large pot and wooden spoon for stirring
STEPS
Combine sugar and cornstarch. Then add the water.
Pour the coconut milk into the pot. Add the sugar, cornstarch and water mixture.
Cook on medium high heat. Stir until it boils. Remove from heat after one minute.
Pour into a 9 x 13 pan. Let cool until firm. Cut into squares. Refrigerate to keep fresh.
TIPS AND SUGGESTIONS
Stir frequently to keep mixture from scalding.
Have the recipe written out and point out ingredients and steps as you go.
Line up ingredients on table to help reinforce sequencing skills.
Have children guess if this will be a salty or sweet treat.
OTHER IDEAS
Easy activity to make a book to go along with the recipe. See photo below to facilitate the book making process.
Cut into fun shapes with cookie cutters or Jello cutters.
For each recipe we did in the classroom, I made a set of cards. This was great for practicing reading, sequencing and perfect if you choose to make a book. Each card represented one page. Refer to each card as you go. After the activity is completed, you can go back and talk about the sequence of the cooking activity and have children place cards in order.


Haupie Pie is another way to enjoy Haupia. We will share recipe soon!