Toddler Recipes: Hot Fudge Ice Cream Bars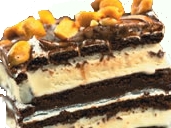 Toddler Recipes: Hot Fudge Ice Cream Bars

DESCRIPTION

A layered frozen dessert.


INGREDIENTS

8 oz can chocolate syrup
1/4 cup and 2 TBS Peanut Butter
8 ice cream sandwiches
1/2 12 oz Frozen whipped topping thawed
1/2 cup salted peanuts
OTHER MATERIALS

9 x 13 pan
STEPS
Pour the chocolate syrup into a medium microwave bowl and heat until hot, but do not boil.
Stir peanut butter into hot chocolate until smooth. Allow to cool to room temperature.
Line the bottom of a 9 x 13 pan with ice cream sandwiches. Spread the whipped topping over the sandwiches.
Spoon half the chocolate mixture over that. Top with half the peanuts. Repeat layers.
Repeat layers. Freeze until firm. 1 hour. Cut into squares to serve.
TIPS AND SUGGESTIONS
Original recipe yielded double, so we scaled it down to half for our family. Make sure your child or children eating it do NOT have a peanut allergy.
Looking for other Sweet Treats?