Toddler Recipes: Fabulous Fruit Salad
Toddler Recipes: Add a few ingredients to fruit coctail and make a Fabulous Fruit Salad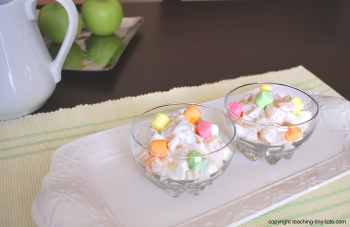 DESCRIPTION
A great treat for a class party or your children. Add a little pizazz to fruit cocktail. A perfect first recipe your toddler can help make.
INGREDIENTS
2 cans 30 oz fruit cocktail
1/2 package mini marshmallows
1 container sour cream 8 oz
OTHER MATERIALS
Medium Bowl
Wooden Spoon
STEPS
Drain juice from fruit cocktail cans.
Pour into bowl and add marshmallows.
Add sour cream and mix well.
Chill for 30 minutes.
TIPS AND SUGGESTIONS
A clear bowl makes it easy for children to view activity.
Have the recipe written out and point out ingredients and steps as you go.
Line up ingredients on table to help reinforce sequencing skills.
Have children guess if this will be a salty or sweet treat.
OTHER IDEAS
Easy activity to make a book to go along with the recipe.
Great for parties as an alternative to chips and cookies
Make a single portion with a small fruit cup and add a dozen mini marshmallows and a couple teaspoons of sour cream.
Add a few colored mini marshmallows on top.