Toddler Recipes: Cream Cheese Fruit Dip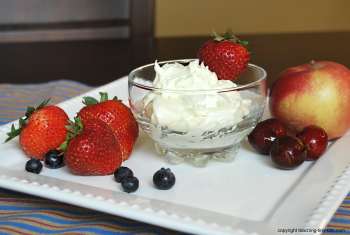 DESCRIPTION
A simple but yummy dip for fruit. Great for a party side dish.
INGREDIENTS
1 (8 ounce) package cream cheese, softened
1 (7 ounce) jar marshmallow creme
Cut fruit, apples, pineapples, strawberries
OTHER ITEMS
Food coloring (optional)
Medium bowl
Electric Hand Mixer
STEPS
Place cream cheese in medium bowl and let soften.
Add Marshmallow Creme. For easier removal use a warm spoon or spatula.
If you want some color, drop a couple drops of food coloring into bowl A couple drops of red will make a nice pink dip.
Blend cream cheese and marshmallow creme until mixed thoroughly.
Serve with cut fruit or whole strawberries.
TIPS AND SUGGESTIONS
Use a medium bowl...it can spray a little as it mixes.
How Toddlers Can Help and Learn
You can write out the ingredients and materials needed on a sheet of paper in a list. Have them help collect the ingredients and match it to the list. They can suggest fruits for dipping and add sprinkles for color.
Cream Cheese
Marshmallow Creme
Bowl
Hand Mixer
OTHER IDEAS
Candy Sprinkles
Add candy sprinkles on the top for a festive look. For parties, use colors to match the occasion.

Nutritional Information

Cream Cheese Fruit Dip

Servings Per Recipe: 12

Amount Per Serving

Calories: 118
Total Fat: 6.6g
Cholesterol: 21mg
Sodium: 63mg
Total Carbs: 13.4g
Dietary Fiber: 0.g
Protein: 1.5g

Please note that nutritional information is an estimate and that added ingredients and other variables may influence values.

Fruit or added sprinkles are not calculated into the nutritional information given.