Toddler Recipes: White Chocolate Candy Dipped Hearts
Toddler Recipes: White Chocolate Mini Hearts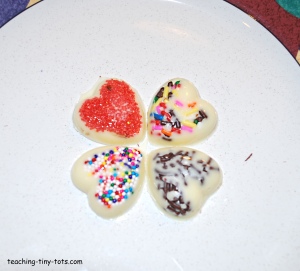 DESCRIPTION
An easy to make treat...lay out in a candy dish or place in a clear treat bag with a bow.
INGREDIENTS
White Chocolate Morsels or Bakers Chocolate
Various Sprinkles
MATERIALS
Wax paper
Small Microwave Safe Bowl
Spoon
Butter knife
Plastic Mold found at craft stores. Wilton Hearts Plastic Candy Mold are about $2 and reusable. Hearts shown are about 1" across and 15 per tray.
STEPS
Sprinkle your choice of candy decor into bottom of mold in a thin layer enough to form a heart shape on the bottom.
Melt chocolate in bowl. Since microwaves vary, times will vary. Heat until just melted. Chocolate should be warm not hot. Chocolate scorches very easily and will taste burnt if heated too long. Use defrost setting or microwave 30 seconds, stir 15 secs, and repeat if needed.
Spoon just enough chocolate into mold. DO NOT PRESS. Lightly use knife to scrape excess.
Chill for faster setting. We popped them out in about 30 min or less.
Place on waxed paper.
TIPS AND SUGGESTIONS
You know your toddler best and will have to determine which toddler recipes he or she can assist with. I let the girls put the sprinkles in each of the molds and they popped it out of the mold when cooled.
OTHER IDEAS
Place in a clear treat bag and tie with bow for a sweet treat to a teacher or special person.