Toddler Activities: Valentine's Pomanders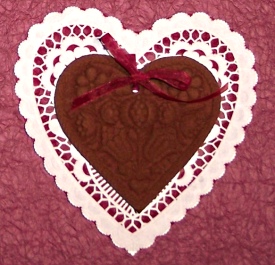 Toddler Activities: A great hands on activity that your child will enjoy. Hang as an decorative piece, add to potpourri or share as a gift tie on. The best thing is the smell is retained for many years.

DESCRIPTION

A great activity for children as young as 3 years of age but can easily be tailored to children of all ages and even adults. A beautiful Valentine's gift for your child's teacher.


INGREDIENTS
1 cup cinnamon
1 1/4 cup applesauce
MATERIALS
Molds
Bowl and spoon
Plastic Wrap
Coffee stir straw or skewer (for hanging)
Rolling pin
Cookie cutters
Baking Sheet
White crayon
Ribbon if hanging
STEPS
Place cinnamon and applesauce in a mixing bowl. Stir with a spoon.
Place on cinnamon dusted surface and knead until well blended.
Spoon out enough to make a ball about the size of a golf ball, flatten slightly and place on surface of cinnamon, flip it over and dust the other side.
Place the rest of the cinnamon dough in plastic wrap.
Prepare the mold by dusting it as well with the powdered cinnamon.
Roll out the ball of dough until it covers the top of the mold, keep the dough thick.
Place on top of the mold and with rolling pin and hands tap on the dough, pushing it into the mold.
Flip the mold over and allow the cookie to fall out.
Cut around the edge, the thickness of the cookie should be approximately 3/8".
Punch a hold in the heart if you want to tie with a ribbon or hand it up for decoration and wonderful aroma.
Place in a warm oven 200 degrees or less and allow to dry slowly for several hours, make sure it is drying on powdered cinnamon.
Next allow to cool, dust off, and color.
TIPS AND SUGGESTIONS
If dough is too sticky add a little more cinnamon or if too dry add a little applesauce.
If your dough did not come out of the mold, knead again and repeat. The dough needs to be a little stiffer. These molds are nice and deep with beautiful details and you will want all of the pattern to show.
If you have any dough left over, store it by placing it in plastc wrap. Surprisingly it will last for months and months.
OTHER IDEAS
Add a Little Color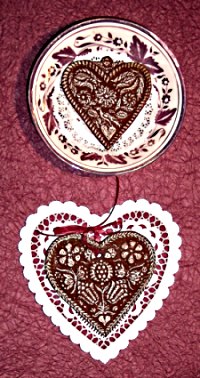 The hearts seen here are colored with white crayon to look like powdered suger. Your toddler may feel like using many colors which is great!
























Custom Search
Follow Teaching Tiny Tots!




Enjoy This Site?
Then why not use the button below, to add us to your favorite bookmarking service?