Toddler Activities: Painting with Sponge Shapes






Toddler Activities with Paint are a great way for a child to express him or herself and learn about shapes and colors at the same time. This is an easy activity for young toddlers or first time painters.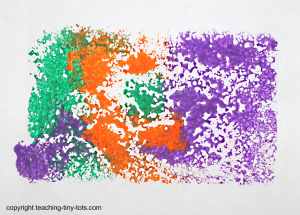 DESCRIPTION
Using just two or three colors and various sponges can create a wide variety of effects. This is a great first painting activity since almost any combination of colors will make a unique picture.
MATERIALS
Tempera or Washable Paint
Two or three brushes depending on number of colors used
White Paper (construction, scrapbook, cardstock or even sketch paper)
Sponge(s)
Paint containers(small cups or plastic paint pallette)
Paper towels
STEPS
Select colors to be used. If child hasn't painted before, then just two color works fine.
If it is not a new sponge, dampen very slightly.
Have child paint directly on sponge with paint.
Press onto paper making sure to help put some pressure on all areas for best print.
TIPS AND SUGGESTIONS
Having a brush for each color makes it easier to monitor.
Put just enough paint...too much paint can make you lose the texture.
If making a new print, wash well and wring out most of the water, then "dry" a little more with a paper towel.
OTHER IDEAS
Use other types of sponges. We tried some from a Dollar Store that were circular and came 6 in a pack.
Cut the rectangular sponge into basic shapes: (circle, square, triangle, rectangle)
If you have small sponges, use it like a paint brush.
Print on tissue paper to make pretty gift wrap.
EDUCATIONAL TIPS
Toddler Activities involving use of paint are a great way to help develop fine motor skills as well as a great visual way to reinforce color recognition and even math concepts like counting.
Ask your child which color he/she wants to use. Refer to the shape of the sponge being stamped.
Count the number of stamped shapes or the colors used.