Toddler Activities: St. Patrick's Day Tissue Shamrock
Toddler Activities: Make a Puffy Shamrock



***y-t3-block-ad-center.shtml***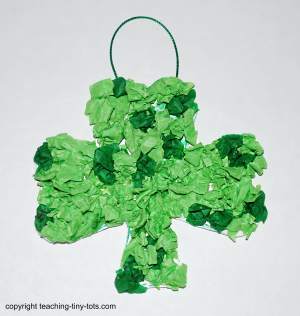 DESCRIPTION
A cute decoration for your child's room or classroom. Easy craft for children age 3 and up.
MATERIALS
1 piece of white or green construction paper
Green Tissue in one or two shades cut into 1.5 inch squares.
Elmer's Non Toxic Glue
OTHER MATERIALS
Ribbon if you want to hang.
Pencil to draw shamrock.
Scissors
STEPS
Draw or print a shamrock shape onto construction paper.
Cut green tissue into squares approximately 1.5 inches.
Have child roll into small balls and glue onto shape.
Adult trims shape and adheres ribbon if you want to hang.
TIPS AND SUGGESTIONS
Older toddlers can use the pencil eraser method which will make the shamrock more puffy.
OTHER IDEAS
I used a cookie cutter and large stamp pad to make the shape but I did find some free printables of shamrocks online.
EDUCATIONAL NOTES
A shamrock is a symbol of Ireland. it is a three-leafed old white clover. It is a common way to celebrate St. Patrick's day by wearing a shamrock which is said to bring good luck. Something I just learned...While the four leaf clover is said to bring good luck...it is the three leafed clover that is associated with the Irish celebration St. Patrick's Day.